World Congress to Host The 5th Annual Patient Advocacy Summit and WEGO Health Award Ceremony
September 2, 2017

Created By:

Categories:

Tags: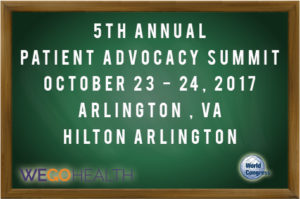 This coming October 23-24th, The World Congress will host the 5th Annual Patient Advocacy Summit at the Hilton in Arlington, Virginia. This is a very empowering conference where key thought leaders, influencers ad patient groups can collaborate with top health industry leaders. The summit is unique in the healthcare space compared to other conference because they diversify the attendees and convene CEOs and senior-level executives from all segments of the health care and life sciences industries to exchange ideas, discuss market trends, and explore solutions to the most pressing challenges facing a variety of roles within these organizations and efforts.
The summit will empower attendees to develop patient centric initiatives and public policy tactics that will improve proper and timely care for the chronically ill population. The summit will work to provide effective collaborations, corporate alignment and stakeholder engagements that last long after the event and create ripple effects for those who need assistance the most, the chronic patients that our communities serve. Attendees will partake in multiple sessions enabling tools that can be directly implemented in organizational strategy leading to the changes we need to improve meaningful care. The
Topics at the event will be best suited for Vice President, Directors, and Managers of Patient Advocacy Groups, Public Policy / Public Affairs Groups, Patient Access Programs and Non-Profit Organizations and Patient Advocacy Groups. There will be a town hall on Pharma, Advocacy and the Media during which presenters will discern strategies that will change the conversation around pharma and advocacy partnerships. The FDA Panel Discussion will help attendees gain insight into their outlook on OPA, expanded access and patient centered medication development. There will also be a patient leaders panel who will give reactions and discuss and answer questions, provide insight into working with patient groups with tips and tools on improving these actions. Another session I am looking forward to is on effective collaboration will help attendees uncover tactics to prevent splinter groups and encourage collaboration.
The presenters of these sessions include Industry Leaders, Patient Leaders and Key Influencers. I am most interested in hearing from John Hoffman, Vice President Marketing, Policy & Advocacy at Johnson & Johnson, Stephanie Fischer, Senior Director, Patient Engagement and Education at EveryLife Foundation for Rare Diseases, and Andrea Furia Helms, FDA Patient Representative Program/Patient Engagement Office of Health & Constituent Affairs at the FDA.
As a past winner of 3 WEGO health awards, (2012 WEGO Ms. Congeniality Award, 2016 WEGO Health Lifetime Achievement Award and 2016 WEGO Best Team Performance for iPain's advocacy and awareness programs) I am most excited that there will be a collaboration of the two events for the first time ever. There will be a live ceremony for this year's WEGO Health Award winners. The WEGO Health Awards celebrate those who tirelessly empower the patient voice through creative and innovative action. WEGO Health inspires patient leaders who raise awareness, share information, and support their disease communities – often without recognition or financial gain. With 16 award categories, the WEGO Health Awards are the only awards across many disease conditions and social platforms. Those 16 winners will be honored live at the event and receive the recognition they deserve. For more on the awards visit here.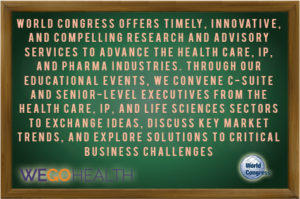 Can't attend in person? No worries! The event will be live streamed via a Video Webcast so you don't have to miss any information or presentations from the thought leaders. You can watch in real time the day of the event and see the presenter and their slides. The best part is you are also able to participate in the question and answer sessions as if you were there in person. If you are unable to travel, or make it in person due to work you can save time and energy and travel expenses while still having access to the great information the health care industry leaders provide. For those medical providers who need CME credits those are available when applicable to the sessions attended.
The World Congress' Patient Advocacy Summit is the unique opportunity that industry leaders from all parts of the health system from insurance, government, pharmaceutical, alternative treatments providers, patients, patient advocacy organizations don't want to miss. I encourage industry leaders in all aspects of patient care to join in to this event in person or online. As an attendee, you will be on the front line of making positive changes by exchange ideas, discuss market trends, and explore solutions to the most pressing challenges facing a variety of roles within these organizations. To register to attend in person go here. You can find more information on the World Congress Webcast FAQ page or if you are ready to register now go here. And finally, if you would like to attend you can use BI100 for $100 discount off the registration price.
By Barby Ingle